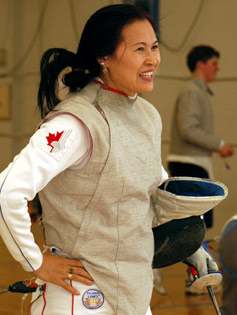 Nope, Canada hasn't won a single gold medal yet. One of the feel-good stories for Canada prior to the Games has been Luan Jujie, the Chinese-Canadian fencer who won Olympic gold in Los Angeles in 1984, while defending China's colours (see article and video on Radio-Canada.ca).
My friend Rob Parungao used to fence, and his coach in Vancouver is a good friend of Luan, who now resides in Edmonton. He met her when she came to town for workshops. Rob has a new blog called When we see the Ocean, and he wrote about his encounter(s) with the fencer:
As I'm pretty good with kids I remember playing with her two daughters and son a lot back when they were kids since Paul, Mike and Jeremy were pretty much content hanging out in her basement listening to music and chatting. I remember her six year old Jerrica was rally outgoing had a crush on me which was kind of cute and her other daughter Jessica had Down's syndrome. Her son was kind of quiet, but I won him over by giving him most of my Halloween candy which made him open up to me a bit.
Here, go check out the entire article.