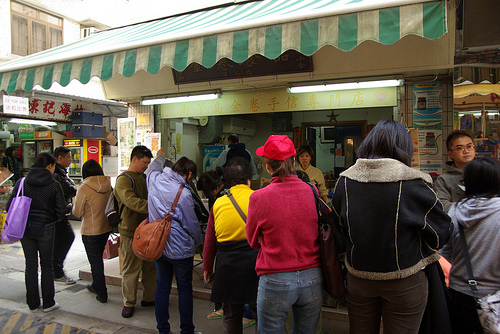 I always thought I was the only Lamma resident of Chinese origin from Montreal. Well, that's no longer the case.
You might think that in an overcrowded city of seven million people like Hong Kong, you would not know your neighbours. This is not true on Lamma Island, a sparsely populated locality of about 6,000 people, where it was in fact my cross-balcony neighbour who tipped me on other Montrealers living on Lamma.
I wanted to make a fresh dish of tofu tonight, and needed to buy a good chili oil. I remembered about the Chinese condiments shop on the main street that my neighbour was telling me about, stopped there on my way home, found the chili oil I wanted, and started chatting with the two owners, who confirmed their Montreal origin. In fact, they were as surprised as I was originally, saying how small the world is.
The lady said she grew up in Montreal, and finished her university there. I was told they were even of one of Lamma's old families. Montreal has a tiny Chinese community compared with Toronto (or even Calgary, a much smaller city) and it's always remarkable to find other Montrealers settling back here in Hong Kong. Some like actress Christy Chung (鍾麗緹) and Cantopop singer Denise Ho (何韻詩) even achieved household-name level of success here.
I'll have to chat longer with these newly found Lamma-Montrealers next time. This island is definitely a place where you can't possibly be anonymous in your immediate physical environment.
They are called Kam Kuen (金卷), Golden Roll in English, and are situated on the main street, next door to Green Cottage cafe, and diagonally across from Emily's ice cream parlour. The small pot of chili oil with garlic was HK$20 (CA$2.54), and they said that they had a new variety of chili oil that also contains dried shrimp (蝦米) and smelled just like it — grandma would probably like it. Now that I know that the owners have a Montreal connection, I can probably feel good about buying tourist stuff from Lamma to bring back to my folks back home (it's all made by hand in their shop)… G/F 32A, Yung Shue Wan Main Street, Lamma Island. Phone: +852 29820812
…now, how exactly can you use chili oil? With wonton noodles is a good idea, and stir-frys too. But tonight, it was, like I said, for cold tofu: