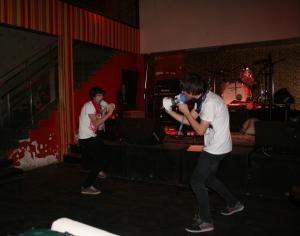 Photo published in the McGill Daily.
Semaine du 16 septembre 2008 / Week of September 16th, 2008
Cette chronique hebdomadaire sur la musique indépendante chinoise est diffusée à Radio Centre-Ville (102.3FM), les mardis entre 22h30 et 23h30. L'émission complète est disponible sur ce fichier MP3, à partir du lendemain de l'émission.
This weekly segment on independent Chinese music is broadcasted every Tuesday between 10:30PM and 11:30PM on Radio Centre-Ville (102.3FM). The full-length show is available at this MP3 file, starting from the day following the show.
***
1. Rabies + Dance to this Motherfucker (zipped)
This week's band is in fact not really Chinese, but its band members live in China during the off season. Brothers Joshua and Simon Frank form the Hot & Cold, a sometimes-Montreal, sometimes-Beijing, sometimes-Shanghai "experimental" rock band.