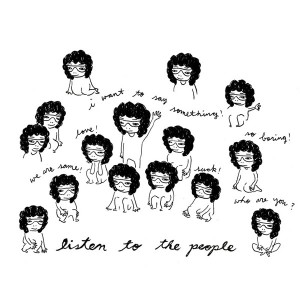 My favourite (perhaps because it's one of the only ones that I know) independent label in Hong Kong, Harbour Records, released a compilation for public consumption. It's available as a free download here:
http://harbourrecords.com/downloads.html
Alternatively (especially people in North America), I made a copy of the archive on my webspace with title encodings and mp3 id3 tags corrected to UTF-8. It's also a RAR, which preserves file names in Chinese, if you absolutely want to read the title names in characters:
http://home.sus.mcgill.ca/~csam/files/Harbour-Records_Listen-to-the-People.rar
Of the artists featured on it, I recognize False Alarm, SuperDay, Jing Wong, Hard Candy, and 林阿P, which we assume is the 阿P of My Little Airport (MLA is not among them).
Track list under the cut.
1. False Alarm – 喜二
2. The Lee's – Smoking on the Shoulders of Giants
3. 黃衍仁 – 轉念 始於足下寸土
4. 神奇膠 – 我明明生勾勾 點解嚟活化我
5. Superday – 八月十五
6. Squawk – 後知後覺
7. No One Remains Virgin – 心繫鳩國
8. Jing Wong – Muted Singer
9. the secret lovers project – 我們的遷徙
10. 林阿P – 我等在街上籌旗
11. 蹙 – 基本訴求
12. Hard Candy – A Word Starting With "F"
13. Pusshi Ta-chi – 領匯歌
14. The Running Deer – 80後:我們沒有得選
15. Bjorn – my home; my loan
16. 生番present: 花*靚clan – 屋邨女
17. The Chaostones – Sedimental Clamour
18. Forget the G – Prologue
19. 在草地上 – 別站著
20. 郭達年 – 我知道