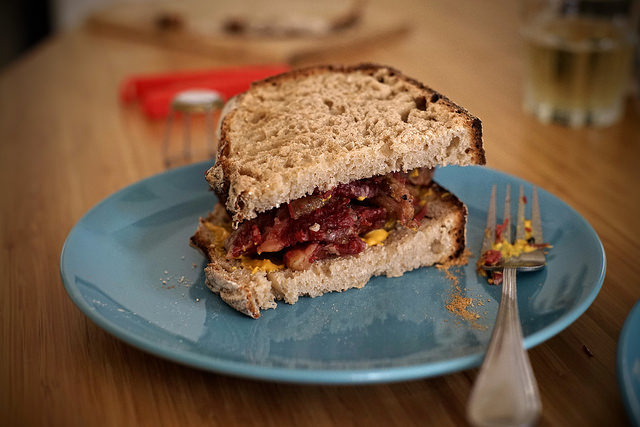 On almost every trip home that I make, I would bring back a piece of my home back with me to my new home. This is my third attempt to recreate what Eastern European Jews brought to Montreal a hundred years ago, which soon became synonymous with Quebec's metropolis (on par with poutine and bagels). The other times, I tried with pieces of beef brisket that were simply too small or cut for stews where you weren't expected to cook the piece whole.
Before Easter, last week, I went to a butcher shop called Feather & Bone on Gage Street in Central that sold chilled Australian beef at a reasonable price (about 1/2 of what you normally pay at City Super). Beef brisket was HK$135 per kilogram (per comparison, 1 kg of smoked meat is sold CA$18/kg or HK$100). I got a portion worth HK$220, about half of the piece that the butcher had at hand.
I took out the extra fat covering the chunk of meat and covered it with a mix of curing salt (hard to find anywhere — I had to order it online and had it delivered to my parents in Canada), and spices in seed form (coriander, mustard and pepper), and a little bit of Schwartz's mix (not necessary if you have stuff like onion powder, garlic powder or paprika).
For six days, I let the salt and nitrites in the rub be absorbed by the meat in my refrigerator. On Thursday, I put my brisket in cold water and put it back into the fridge. And did the same on Friday. Then on Saturday, I started the smoking, which consisted in having some wood chips be lightly burnt in a large pot that I destroyed in a previous attempt at making smoked meat. You could probably substitute this with liquid smoke, as suggested in the Lady and Pups recipe.
I steamed for two hours, but the result was pretty tough, like a roast. From previous experience with stews, I could definitely tell I didn't steam it long enough.
Today, I steamed it again for myself and guests, and this time in a much smaller pot and for longer (around three and half hours). The result was absolutely perfect and felt and looked like what I expected buying at the best delis in Montreal.
(If you try this at home, salt and spice quantities are relative to your meat, maybe a tablespoon of curing salt per kg of meat, around the same quantity of regular salt. Spice mix should just be enough to cover the piece, and you could get creative, but coriander + mustard + pepper sounds just right. You'll just need to prepare some more spice mix to rub again after desalinating.)
After the steam today, you could cut into the meat as it was butter. The meat filaments would lightly break up and crazy delicious when picked from the plate mixed together with the beef fat and leftover seeds. The slices were served in homemade rye bread that I made on Saturday with yellow mustard spread all over the place.
If I had to change something next time, I'd probably try to source my pepper better. I'm not sure if what I got was correct (a random HK brand selling seeds from Malaysia). But more importantly, I'd probably use less salt and curing salt (with has 6% nitrites — which gives the red tinge to cooked meat). Despite desalinating for one day in fresh water twice, it was still too salty in the end.
The only effort really was in grinding the spices and waiting for the smoking to work. If I substitute for liquid smoke, maybe this could be extremely painless and a sure winner for future parties.
I'm always extremely happy to try making things myself, like back in the days on this blog when I explored for Chinese food in Montreal. Nowadays, it happens more often with Western food that I try to make on my own, because the restaurant equivalents are either out of price (for what they are) or denatured beyond acceptability.