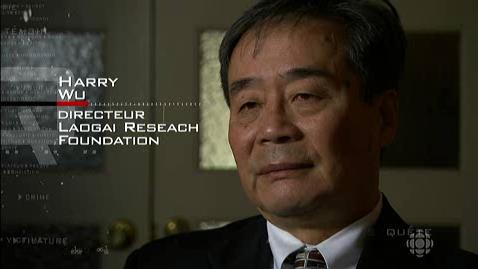 Harry Wu, Director of the Laogai Research Foundation
Update (2009-03-11): Due to the controversial nature of this report, as well as a complaint filed by the Falun Dafa Association of Canada, the Radio-Canada ombudsman released a review saying that while she "expressed reservations about the selection of two interview clips", she considered that the "report is otherwise based upon serious research" and that "the complaints were unfounded". See the full report (PDF).
Mise à jour (2009-03-11) : Étant donné la nature controversée du reportage, l'ombudsman de Radio-Canada a décidé de répondre à une plainte déposée par l'Association Falun Dafa du Canada. Elle a émis des réserves sur le choix de deux extraits d'entrevue, mais considère que « le reportage s'est basé sur une recherche sérieuse » et que « les plaintes ne sont pas fondées ». Voir le rapport complet (PDF).
Canada's French-language state television Radio-Canada presents an investigative report critical of religious organization Falun Gong (Falun Dafa).
A pro-Falun Gong blog reacts for the English-language web too. The French-speaking web doesn't seem to realize.
Update (2008-11-06): It's not like Xinhua doesn't have anything about things happening here in Canada… A search on Google on the official Chinese news agency for "Montreal" (蒙特利尔) and "Falun Gong" (法轮功) yields a mass of articles that you can pass into Google Translate. It includes a 2002 article written when the story with editor Mr. Chau and the former FG practionner broke out.
It's also ridiculous as to how the pro-Falun Gong media are pwning the English-language web in terms of search engine hits… If you look for something contained in this article, for instance "crescent chau falun gong", 7 out of the 10 top hits belong to pro-Falun Gong individuals and nothing from mainstream media. They are also pwning in the free newspaper coverage (all languages confounded) category.
Update (2008-11-08): At the center of this controversy are articles published in 華僑時報 (Montreal's Presse Chinoise / Chinese Press). You can access them through this Google search – Google Translate ("Translate this page") does wonders, again.
—
La journaliste Solveig Miller et le réalisateur Léon Laflamme signent un reportage d'une trentaine de minutes sur le mouvement religieux Falun Dafa (Falun Dafa), diffusé jeudi dernier à l'émission Enquête à la télévision de Radio-Canada.
On y voit des entrevues avec la travailleuse communautaire May Chiu, l'éditeur de La Presse Chinoise (華僑時報) Crescent Chau, le dissident chinois Harry Wu et l'ancien secrétaire d'état fédéral David Kilgour (signataire du rapport éponyme), et les sinologues David Ownby et Loïc Tassé de l'Université de Montréal.
Il s'agit d'un portrait peu flatteur fait des activités du Falun Dafa au Québec et au Canada. Le reportage dresse un historique des démêlés entre les Falungongistes et Crescent Chau (poursuivi en 2001 pour avoir publié un article d'une ex-Falungongiste dans son journal en langue chinoise de la rue Clark), puis parle des très grands moyens que posséderait l'organisation du Falun Gong.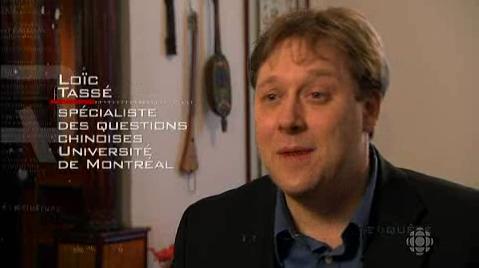 Loïc Tassé de l'Université de Montréal.
L'intégrale vidéo : Partie 1 | Partie 2 | Partie 3
Créé en 1992, Falun Gong est un mouvement politique et religieux qui combine foi bouddhique, exercices physiques et méditation. Interdit en Chine depuis 1999, Falun Gong a essaimé dans le reste du monde et ses adeptes sont de plus en plus visibles dans les communautés chinoises expatriées.

Doté d'importants moyens financiers, Falun Gong suscite parfois de la méfiance et créé même un certain malaise dans les villes où le mouvement est implanté. C'est notamment le cas dans le Chinatown de Montréal.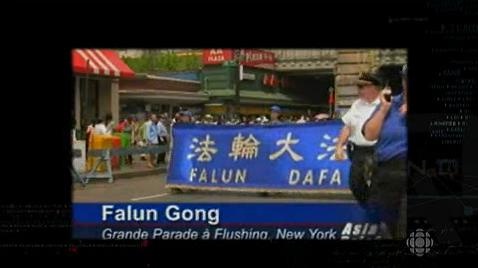 Au début de l'année, ce blogue avait rapporté qu'un article de la Presse Canadienne sur le « Chinese New Year Spectacular », passé dans les principaux médias web au pays parlait de ce spectacle sans en mentionner ses commanditaires. Je n'ai pas eu le temps de descendre au Quartier Chinois avec ma caméra, mais cette année, les organisateurs de l'événement ont inscrit visiblement au bas de leurs posters qu'ils étaient liés au Falun Gong.
Je pense que le consensus est bien exprimé dans le reportage de Mme Miller. On se doute que le Falun Gong est une organisation avec beaucoup argent juste à voir les médias (NTDTV, La grande époque) qu'ils supportent, et que la population générale (qui s'intéresse au phénomène) pense que le FG en beurre épais avec ses accusations de torture et de traffic d'organes. Puis les théories de complot, je les ai entendues aussi, du genre que les États-Unis ou Taiwan financent le FG.
Et puis quand je pense Falun Gong, je pense toujours à la révolte des Taipings… L'idée du leader quasi-Dieu, c'est pas nouveau en Chine (psst, Mao).